22 Jun

The Bamboo Trail

My name is Robert Cook and until 2010 my work background was construction, mostly home renovations. Over the years I acquired a faithful group of clients that I'm thankful for. When I lived in British Columbia I had the good fortune to work with Wolfgang Peterson on the movie set "We're No Angels". An awesome one time experience, however most of the jobs involved residential work and I felt like something was missing. I had a longing to travel and be a part of something that would give me meaning. You know the saying "you have to watch what you ask for because you might just get it" On my way to work on my friend Bob's home, someone ran a red light. I got T-bone at an intersection in Barrie and for a while the world went out of focus and very quiet. During the recovery time I happened to read an article about bamboo in Central America and was astounded by the incredible strength and properties of this grass not the kind that you smoke but the kind that can grow up to and over 100' in 1 year. The tensile strength of bamboo is equal to steel and the compression rate is the same or better than concrete. Bamboo produces tons of oxygen and soaks up an equal amount of C02. The turn around harvest rate is 3 to 5 years and once cut can't start up 2 or 3 more shoots on it's own. 80% of the bamboo plant is used for many things a few are cloths, food, building material and yes baseball bats.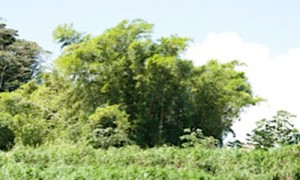 So whether it was a result of possible braindamage or the allurement of travelling to Central America and exploring the bamboo groves I found myself booking a ticket to Costa Rica.The first leg of the trip started with a tour from Coco beach CR to the city of Granada Nicaragua.
The transport trucks and cars at the border were backed up for 1/4 mile. We left our ride on the Costa Rica side and crossed the border on foot with ease to be greeted by an associate of the tour guide and continued to Granada. The highway on the Nicaragua side was well built and smooth compared to the Costa Rica highway. Apparently the byway was built by the Japanese and has road signs to remind you of this. The farms we passed along the way had an abundance of bananas, mangoes coconut palms and pineapples. You can get a bag of fresh cut fruit with a fork in it for a dollar or 20 cordobas on a street corner. The sun rises at 6:00 am every morning and sets at 6:30 pm every day giving you over 12 hours of sunshine. The morning starts out a little cool by Nicaragua standards but but quickly reaches the 90 degree mark. The climate on the western side of Nicaragua from January to April is dry and arid.
The rainy season starts in April and last to December. Nicaragua is rich with fruit, vegetables and nuts including cashews.
Once your in the city of Granada you will be surrounded by history and find yourself standing in the shadow of 500 year old cathedrals and buildings.
Granada is located on the northwestern side of Lake Nicaragua which drains into the San Jan river and empties into the Caribbean. The same route the Spanish used when they conquered the area 500 years ago. It was also the route used by ships to get goods from the Caribbean to the Pacific before the Panama Canal was built.I believe that Lake Nicaragua is the only fresh water lake in the world that has bull sharks, kinda puts the brakes on going in for a quick dip to cool off but doesn't stop the locals.
Nice hotels with infinity pools and hot water can be found in the off season for around $40.00 a night. Hostels start at about $8.00 a night and up.
I meet my friend Bob and stayed at the Blue Angel for $12.00 there was no air so it took 3 icy showers for me to cool down and get to sleep. We were up a 6:00 and headed for the central park it seems that every city in Central America has a central Park and thats where Bob gets his instant coffee made with what appeared to be muddy water, what do you want for 25 cents? At 6:00 am it is still cool and quiet except for the song birds. But within the hour the cars and trucks and wheel barrels will start to roll out, horns a blazing. I'm not sure but I think you have to learn the language of the horn before they will let you drive here. It may save your life. The more you look like a freshly arrived tourist the more you will be approached by vendors selling there goods, fruit, cashews, sunglass's they will offer you a shoeshine even if you have sandals. It took a bag full of souvenirs and 3 pairs of sunglasses to learn to say no. Vendors start in central park and make their way down through the outdoor restaurants and shops along the Calzada towards the lake searching for the American dollar. The Nicaraguans are proud and with a 60% unemployment rate they are quick to get behind a business plan. While reading about bamboo in Canada I came across Jan Van Bilsen a cinematographer from Belgium who had lived in Nicaragua for 30 years filming documentaries in Central and South America. While in the jungle areas he was captured by the beauty of the bamboo groves. Jan travels to different parts of Nicaragua sharing information with communities on the benefits of cultivating, planting and maintenance of bamboo. As you may know the jungle areas from the Amazon up to Mexico are being burned and slashed at an alarming rate to make way for cattle and cacao.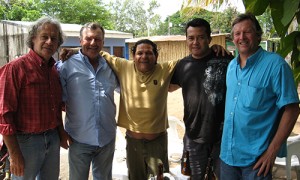 Bob agreed to be my guide and translator for a couple of days. We took a bus from Granada to Managua for $1.00 and meet with Jan at a college pub for some cerveza and to begin my education on Guadua bamboo. It was a great meeting and after several crevasse and picking up Bob who had fallen off his chair only once were on our way to meet with Pro Nicaragua. With Jan as our interpreter doors began to open and Pro Nicaragua was excited to help us explore manufacturing bamboo products in their country.
Bob had bought some land on Ometepe Island in lake Nicaragua and I travelled there with him to have a look at his place. Ometepe is an island formed by two volcanoes rising from Lake Nicaragua in the Republic of Nicaragua. Its name derives from the Nahuatl words me and tepetl, meaning two mountains.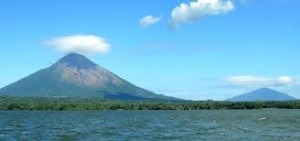 Bob was a great help showing me where to exchange money, do my laundry and introducing me to some of his friends.Once back in Granada on my own I realized I would have to hire a guide and interpreter and this is where Jonathan enters. Jonathan was a 24 year old Nicaraguan who was fluent in English and Spanish and had a vast knowledge of the history of Nicaragua. He took me on some off the grid bicycle tours through some of the poorest areas of Granada where people had patched together huts made of anything that they could get there hands on. He showed me where the entrances were to underground tunnels hundreds of years old beneath the city and some 20 miles long travelling from Granada to Masaya. When we finished a day of visiting bamboo groves and searching for machine shops that could work with bamboo we would drink Flor de Cana rum and play pool. Unfortunately the shops in Nicaragua are not adequate for working with bamboo. China holds over 200 patents on bamboo machinery and have been laminating products for 30 years.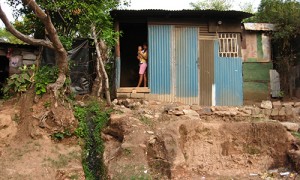 China here we come. On returning to Canada I mentioned that I would be taking a trip to China to investigate the bamboo factories in Anji and my youngest daughter Kyera volunteered to come along. Kyera had just finished working for a doctoral candidate in the Penticton area examining and recording information on fish that had been stocked and caught by fishermen in the area.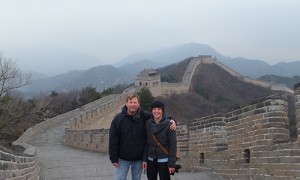 We flew out of Vancouver and after a 13 hour flight landed in Shanghai took the bullet train at 430 kilometres an hour to the city centre. I had to throw everything away that I thought I new about China. Shanghai is modern city with infrastructure and rail system that makes Canada look backwards. You won't see many cars over 12 years old and the majority of the people are well dressed friendly and easy to approach. We spent the first night at a nice hotel and took advantage of a $12.00 an hour foot message . This would turn into a regular ritual. Kyera found a hostel for $20.00 a night we spent the next day there and figured out the route to Anji. A train to Hangzhou the silk capital and a bus to Anji. Anji is at a higher altitude than Hangzhou and has more precipitation. Our first tour of a bamboo plant was a bit of a disappointment. The equipment looked run down and broken. We took a break from Anji and proceeded to tour some of the highlights of China. Xian the original capital of China where thousands of clay soldiers over 3 thousand years old had been uncovered and on display. Beijing where we climbed the great wall and became real men.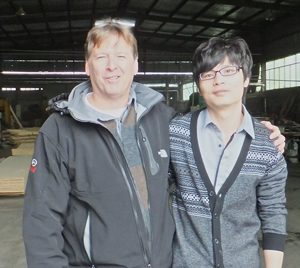 We took another run at the bamboo manufacturing district of Anji. Gary the #1 son of the # 2 bamboo plant on the list picked us up at our hotel drove us to his factory and took us through the procedure of machining the bamboo from the start to finish. In a nut shell it's split, planed, cured, dried and pressed into blocks, panels, plywood and flooring. the products are strong and have a beautiful finish. I would let all of this new information sink in and explore as much of China as our remaining 2 weeks would allow.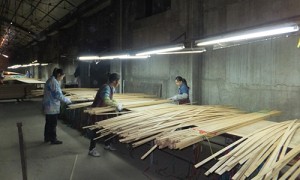 On our return to Vancouver I had realized that manufacturing bamboo into building material would be a huge undertaking with a big price tag. I phone Jan in Nicaragua and shared some of the stories of the road. He suggested a small bamboo bat factory and given the awesome properties of bamboo I thought it was brilliant. When the first bat came off the lathe I phoned some sporting goods stores and asked if they new of anyone that would try out the bat. They steered me to a baseball training centre in North Van "Inside performance" Where my oldest daughter Natasha and I meet Micheal Crouse from the Toronto Blue jays. He was happy to try our bat but we couldn't watch for fear of the bat exploding on the first hit. All we heard was a nice popping sound, Micheal had a big smile on his face asking us how we get bamboo bats into the major leagues.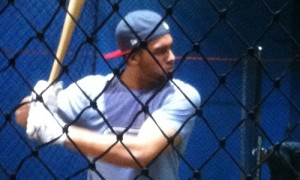 Back to the Jungle
The Bamboo Trail 7 of 11 The Alhambra hotel sits across the street from central park and has a nice Veranda where I like to have breakfast, dos huevos, frijoles, plátanos ans café con leche. Horse drawn carriages of every colour jockey for position along the street under the giant shade trees and compete to take customers on the best tour of the city of Granada.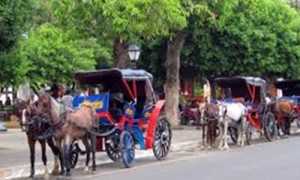 Just finishing a coffee when I heard, "Hey Roberto Cook who's your daddy" low and behold there was Jonathan which was amazing because I had tried to contact him for a month unsuccessfully. Jonathan was willing to translate and continue the quest for Bamboo. I laid out the plan. We locate the bamboo, make a deal with a local Spanish trades school to use their shop. Bring the machined bamboo back to Canada where my genius friend and carpenter Brian English would develop the first guadua bamboo profile bats.
Jan connected us with Pantalion who had been trained by Japanese tradesmen to work with bamboo and became an expert building homes and furniture. Pantalion helped us pick out the best bamboo poles. We learned that the best time to cut bamboo was 4 days after the full moon. Thats when the water in the bamboo plant drains into the root system leaving the bamboo stalk dry and easier to work with. It is dried standing in an upright position for over 2 months. Thats the process for drying when your using the whole pole. For our purpose we would be cutting it into strips and soaking it in borax for a week and then air dry it for a month.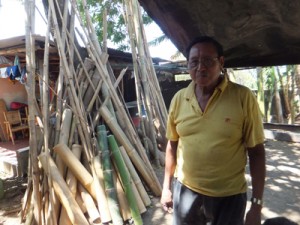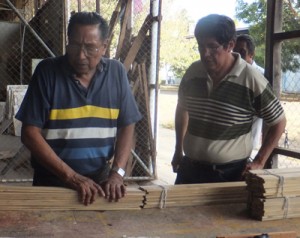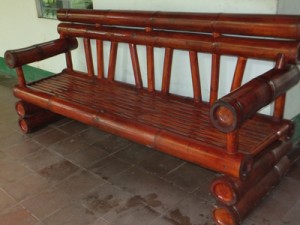 The quest for bigger and better bamboo lead us to a town called Waslala a 3 1/2 hr drive northeast of Granada. The drive to Waslala was equivalent to driving up an old river bed. Despite it's condition of the road was well travelled with trucks, buses, cars, bicycles and horses. If people were walking and carrying supplies we would pick them up. Sometimes the back of the Toyota Hilux was full of laughter.
Jan and I struck a deal with a farmer "Harvey" outside of Waslala with a nice bamboo grove by a stream. We helped Harvey groom the bamboo grove by taking out the dead fall and thinning out the clusters so it could get more light and breath a little better. We started harvesting 4 days after the full moon so the water in the columns had gone down to the roots making the removal a little lighter. The tops would get caught up and Harvey would use his horse to pull the columns out.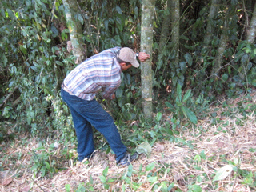 We lucked out in Waslala when we found Francisco a carpenter with a half decent shop he agreed to machine the bamboo into strips. So the bamboo was soaked with borax and water in a custom welded barrel.
Francisco invited me to a family picnic on the river It was awesome I forgot how much fun you could have with just a ball.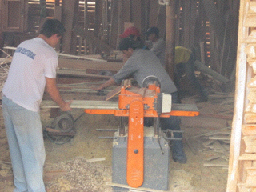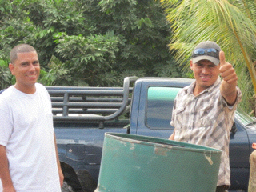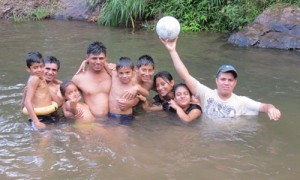 Travelling to Nicaragua was one of the best experiences of my life. The people I met have a great sense of family and community. They are hard working and generous. Francisco and I have streamlined the process and with a phone call he can have cured machined bamboo ready to ship to Canada. Once it arrives in Canada it will be pressed, turned and finished by Canadian trades people. I test out all the bats in our batting cage and invite anyone interested to try one of the most resilient ball popping baseball bats ever made from the most sustainable plant on our planet. Test our bat, it speaks for itself every time it hits the ball.